PT. PANCA TRANS LOGISTICS an International Freight Forwarder with its Head Office in Jakarta. Besides offering service throughout the entire Indonesian Archipelago, we are  provides global coverage through its network of dedicated agents. Complemented with offices in main seaports and airports in Indonesia, we will ensure excellent customer service in terms of speed and accuracy.
 
PT. PANCA TRANS LOGISTICS is supported by highly qualified technical staff, in a position to render first class quality services to meet the expectations of its clients.

PT. PANCA TRANS LOGISTICS is takes care of your export and import documentation to make sure they are in compliance with the customs regulations, and gets your goods moving across the border seamlessly,make your export and import activities easy and predictable. Even if you are establishing your first shipment overseas, we can guide you throughout the process.
PT. PANCA TRANS LOGISTICS
International Freight Forwarding,Custom Agent & Inland Transportation.
Jl. Kebon Bawang V No.16B Lt.2 RT/RW 011/08, TANJUNG PRIOK-Jakarta Utara
DKI Jakarta | INDONESIA | 14320
Email    : This email address is being protected from spambots. You need JavaScript enabled to view it.    
Phone   : 021-2243 3848
Fax       : 021-2243 3282
website : www.pancatranslogistics.com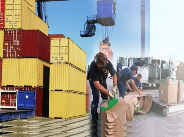 Our Visitor :